How to massively expand your Network Marketing Business with Facebook – without being technically savvy
Do You Want to Know How to Use Facebook to Build Your Network Marketing Business?
The Opportunity to build your business with Facebook is massive. Two Billion people currently use Facebook, including 85% of the Baby Boomers, which is the most powerful consumer group in the world. The smart way to build any business is to go where the biggest amount of the market is. And that is what Facebook is. The largest pool of people in the world that need your products and opportunity.
Social Media is the Great Equalizer
Now anyone, regardless of personality type, previous experience, or skill level, can begin to effectively work their business using social media. In the past, the learning curve was painful and long. As an introvert who is very sensitive to rejection, I had no choice but to face my fears head on and master the telephone and personal presentations to build my business. Now, using the fundamentals you will learn in this training, anyone can quickly begin to make contacts and have success before they master the phone.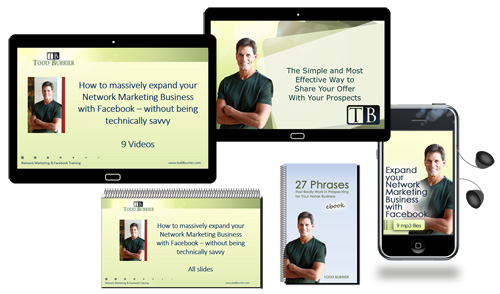 (* the price can vary depending on your currency or VAT rate)
Social Media Changes the Way You Can Use Time
Without social media skills you are limited to when you are able to actually reach someone through the phone or meet with someone. This makes your effective time to work the process minimal. This is especially true for someone with a family and a career. With social media skills, you can work your business any time of the day or night. Time no longer becomes an obstacle. Now you can be productive any time that works for you.
Fundamentals are the Key
As with all my teaching, there are no gimmicks or magic tricks here. The most important things in life and in network marketing are fundamentals that you can take action on and master. The process of the work never changes. This training teaches you the fundamentals so that you and your team can learn to be successful in the process using social media as a part of your long term strategy. Everything you learn has been proven. This training was originally recorded in front of a live audience in Munich, Germany. It has been re-recorded for better sound quality and to remove the translation. It is broken into 9 video modules and will absolutely make a difference for you and the people in your team.
Everyone in network marketing needs to know how to work with social media. Even if they don't choose to use it, they will sponsor many people who want to. In fact, not knowing how to use it will reduce the amount of people you can sponsor, as many people will only want to join a team that knows how to use Facebook.
Pick Up This Step-by-Step 9-Video Training + Bonuses for $ 47
(* the price can vary depending on your currency or VAT rate)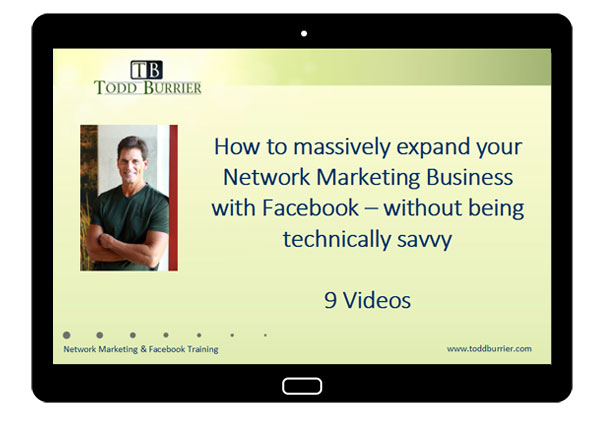 Video Training with 9 Videos (107 min. Total Training time)
What you will learn:
How to Position Yourself Properly
Common Mistakes to Avoid
How to Engage Your Target Audience
What to Post to Attract New People
How to Promote the Benefits of Your Product and Opportunity the Right Way
How to Use Facebook Messenger in The Process of Building
How to Position Your Online Information Tools so Your Prospects Want to See Them
How to Incorporate the Telephone Effectively
Highly Effective Scripts for Making Contacts
How to Target New Markets
How to Expand Your Contacts
How to Use Your Time Efficiently
107 min. Total Training time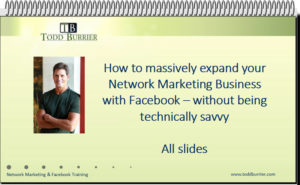 All slides as pdf
 The strategy and the scripts for approaching the 4 groups of friends as a pdf.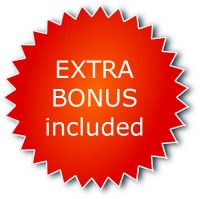 You´ll also get these Bonuses!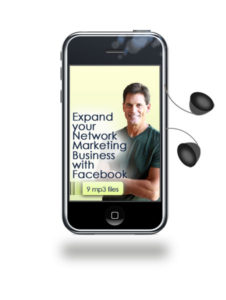 Bonus #1: All 9 Parts as mp3 files
It's been said that "Repetition is the Mother of Skill." These MP3 Recordings of the entire program will help you develop your skills wherever you are!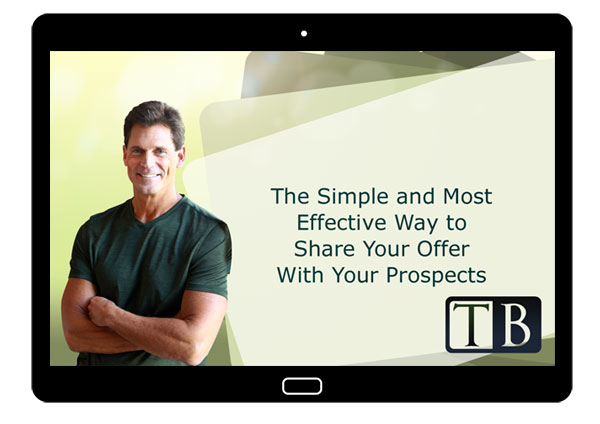 Bonus #2: The Simple and Most Effective Way to Share Your Offer With Your Prospects
In this 24 min. Bonus Video Todd is giving you a tremendous recipe for becoming highly effective in prospecting. No matter if you want to share your product or your service or your opportunity. This works for everything…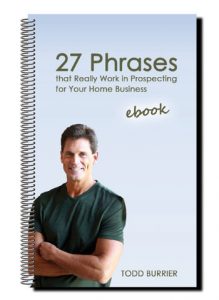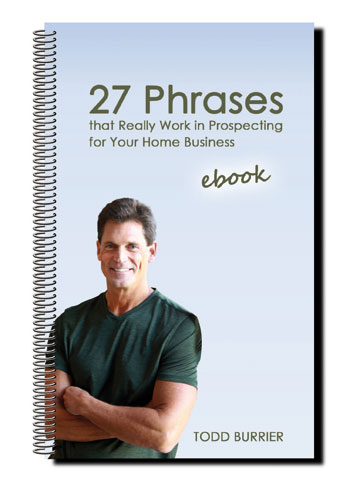 Bonus #3: 27 Phrases that Really Work in Prospecting for Your Home Business Ebook
This ebook (pdf) is the transcript from Todd's 27 Phrases that work MP3. It is full of the most effective things to say and will help you further craft your contacting language to become a master prospector.
Pick Up This Step-by-Step 9-Video Training + Bonus for $ 47
(* the price can vary depending on your currency or VAT rate)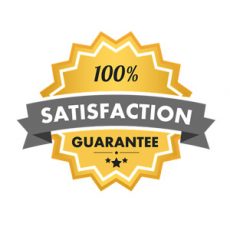 60-Day 100% Money-Back Guarantee
I guarantee you'll be so blown away at the value you'll receive that I'm offering you my 60-Day 100% Money-Back Guarantee. Join me and watch the recording, and if you're not 100% satisfied, simply contact me within 60 days and I'll refund your investment.
Please Note: The visual representation on this page showing the product is only a representation of the course. This course is in digital online format which can be accessed via our secure membership site which you will be able to access immediately upon purchase. This course contains streaming videos, audios, and downloads. There is NO physical product that will be shipped or mailed to you. By purchasing this product you acknowledge that you understand and accept these terms.